[sg_popup id="2″ event="onload"][/sg_popup]
Representative Duncan Hunter (CA-R) is ready to introduce new legislation that would "repeal and replace" current FDA deeming regulations. He intends to do so when congress comes back in session next week.
You may recognize Representative Hunter as the guy who vaped on the house floor while voicing his opposition to a ban against vaping on airplanes. All major airlines already have rules in place forbidding vaping, so it was little more than a token gesture.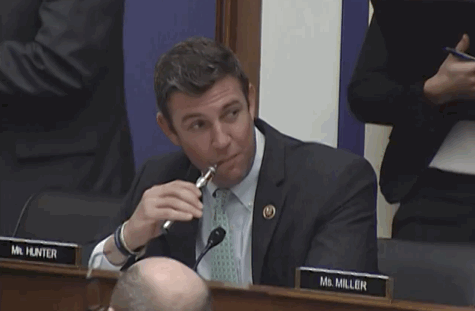 A square peg in a round hole
If you've been living under a rock for the past few years, current FDA regulations are forcing vapor products under the same rules as cigarettes and other traditional tobacco products. Those rules are poised to ban 99.9% of the vapor industry on 08/08/2018, when all products would need to have obtained an extremely costly and burdensome PMTA approval as new tobacco products. By the FDA's own estimates the thousands of products currently on the market would dwindle down to about 25, or less than what Altria (Marlboro, Mark Ten) and RJ Reynolds (Camel, Vuse) currently offer.
Hunter's bill would force the FDA to regulate vapor products under a new category of their own with new rules, as well as introduce common-sense battery safety rules. Some vapers have voiced opposition to the battery rules, but the fact of the matter is that 9 out of 10 "ecigarette explosions" are due to user error which could be prevented by enclosing batteries within devices or battery packs like the power tools market currently does.
Mech mod ban?
Some vapers have pointed out that it looks like the bill would ban mech mods. Frankly, we see no problem with this. Advanced users would have no problem obtaining such devices. The only people that a "mech mod ban" would prevent from purchasing a mech mod, are precisely the people who should not be owning mech mods. You know, the people who keep showing up in the news after tossing loose batteries in their pockets and then wondering why they blew up.