Are you at least 18 years old?
The products contained on this site are intended for sale to adults 18 years or older. If you are not legally able to purchase tobacco products in the state in which you live, please do not enter this site.
 
SMOK TFV8 Cloud Beast
SMOK TFV8 Cloud Beast features 6ml liquid capacity and Octo, Sexto, or Quad coils for superior vapor production. Delrin drip tip and top filling.
TFV8 brings the great power which will change your vaping life. TFV8 - the top level sub ohm atomizer, which adopts 4 Unique Patented Turbo Engines: V8-T8, V8-T6, V8-Q4 and V8 RBA, all of these make it to be a real Cloud Beast! Black color.

Specifications:
Size: 24.5 x 50mm
Material: SS
Thread: 510
Capacity: 5.5ml (with T8-V8)/ 6ml (with T8-Q4)

Includes:
1 x TFT8 Cloud Beast Tank
1 x V8-T8 Qctuple Coil head (0.15ohm)
1 x V8-Q4 Quadruple Coil head (0.15ohm)
1 x V8 Exclusive Turbo RBA Head (0.28ohm)
1 x Repalcement Glass Tube
1 x User Manual
Spare parts
Specific References
upc

611138774413
Kathryn C.




Jan 22, 2018




It leaks like a sieve out the carb...frustrating. I have the baby and no probs at all. I upgraded cuz I have a bad habit of smoking my baby dry and having to change coils before their time but this one just runs all over all the time...ive had to keep it wrapped in a paper towel when I use it. It something wrong?
Tabatha S.




Jul 19, 2017




Ive tried my friends and im like a kid on xmas waiting for my bad beast beast!:)❤
Anthony H.




Jan 15, 2017




It's like they say it's a BEAST!! Great flavor and huge clouds!! RBA has a great sized deck for building. Fer nitpicking issues but love the tank!!





You might also like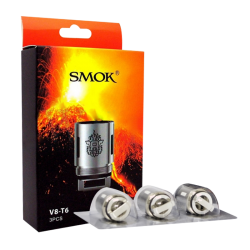 (1)
Octo, Sexto, or Quad coils compatible with SMOK TFV8 tank.
Pack of 3
13 other products in the same category:
Customers who bought this product also bought: